A few months ago, I saw a piece of artwork at Queens Quay park. The artist was expressing the ideal of "everyone is entitled to have a place to live" through this art piece.
Erwin and I are currently in Hong Kong with the kids.
Yep, I'm here again, but this time it's for my brother's wedding.
Taking two 15 hour flight in just over a month with 13-hour time difference *is* a lot to this mommy of two. But seeing how my parents and my kids' smiles make this second trip well worth it.
Kids do make everyone happy. ?
Now that I'm in a different country – seeing all the public housing and infrastructure built here reminded me of the ideal that "everyone is entitled to have a place to live".
Maybe these four observations below could help us, Canadians, achieve this ideal faster.
#1: Create Public Rental Housing
Public Rental Housing here in Hong Kong is responsible for housing over 2.1 million people in Hong Kong. The total population here is around 7.4 million. This is equivalent 28% of Hong Kong population.
Rent can be as low as $200 CAD per month. Residents are responsible for paying for their own.
These units are quite small. For a two-bedroom apartment, you are expecting 500 square feet of space for a family of four.
Other government subsidized programs are also created to help the lower income families and the middle class to own their own homes. These other programs, together with the Public Rental Housing mentioned above, provide housing to 30% of Hong Kong Population.
Food for thought: Why can't Canada have something similar? If there's such a shortage of housing in major cities like Toronto, why can't we build public housing in Canada to help the less fortunate?
#2: Residential complex is built around a public transit station
I've always asked Erwin this question before, why can't we, in Canada, build condos above malls? In Hong Kong, you see multiple condo buildings, residential complexes that are built on top of the train station. It can be a second home for those who are in need and should be look at as a viable living option.
My parents live in a residential complex (about 25 buildings so far, I think they may still be building more towers nearby) that's connected to the train station.
A small mall is also built with restaurants and supermarket.
A clubhouse, similar to the community centre, that has indoor kids playgrounds, indoor and outdoor swimming pools, working space, flight simulator (?! I know, isn't that crazy?!), laser maze, etc. Amenities here are amazing.
Food for thought: We have an aging population in Canada. Why can't we build more condo towers connected to the malls and public transits, so we can provide accessibility and enhance independence for elderly people?
You see the mad density we're getting downtown Toronto? It's because everything is there, transit, food, groceries, gym, everything. Why can't we apply the same principle to the outside of Toronto? Build a network around a major transit stop.
My mom paid $300 maintenance fees every month to enjoy the indoor pool and all the amenities. This is achievable because there're 25 towers built.
Instead of having one condo building and one pool here in Canada, can we have 10 buildings in one residential complex and share all amenities?
#3: Density drives public transit development and vice versa
Below is a picture of their train map. 7 of these lines were not there when I was here as a teenager 20 years ago.
They built 7 brand new transit lines in the last 20 years.
They also extended a few original lines to cover places that were not built 20 years ago.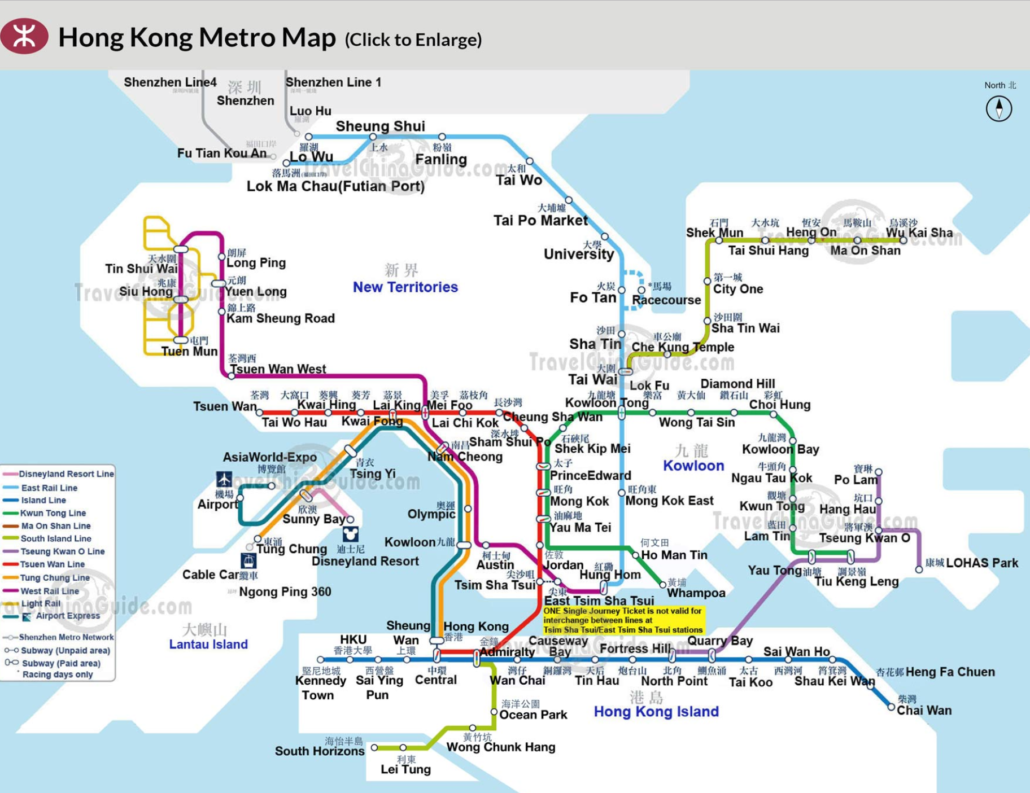 This doesn't include the new bridges and tunnels they built, the additional high-speed train and other infrastructure they've built.
Every time I come back for a visit, there's always a new residential complex popped up somewhere.
Infrastructure drives density to a new area. Density also drives economic development and small businesses.
Toronto's density is also growing every year. It's obvious that our infrastructure isn't keeping up. We haven't developed a lot in the last 20 years in terms of infrastructure.
New condos projects in Eglington & Yonge area are stopped because our sewage system can't handle the population.
When the Hong Kong government decided to build a new train station, they don't go around to ask for people's permission. They just go ahead and finish it. They still go over budget and politicians still get questioned, but things get done much faster.
There's no right or wrong. My local friends complained about this system all the time. As a Canadian, I wish our government can move just a bit faster with their decision process, especially with building new infrastructure.
New infrastructure allows people to commute. They can afford to live in cities further away from the core.
#4: Time in the market is more important than timing the market
A few of my friends can't afford to own their own homes in Hong Kong.
They make a decent salary and pay very little taxes, but they still can't afford the initial downpayment.
Everyone's ideal is different. If it is up to me, I would save enough, buy a small rental place and trade it for a better place as my own home a few years down the road.
At least you've got one foot in the market.
My friends are still trying to save up for the initial down payment for their ideal home. It's tough. The market has gone up more than their ability to save. ?
One of our family friends in Hong Kong sold their flat a few years back thinking that the price was at its peak. They started renting and hoping for a downturn to get into the market again.
Now they're paying $12K Canadian monthly rent. They can't afford to get back into the market again. At least not in the area that they want to get in.
Time in the market is so much more important than timing the market, especially with a long-term investment perspective.
Maybe we shouldn't aim to buy a big place like our home. Maybe we can learn to adjust to living in a smaller place.
Maybe we shouldn't aim to buy our own home as our first property, maybe buying an investment property to get a foot in the door is better.
Hopefully, these Hong Kong real estate talk is somewhat interesting to you all.
Until next time, happy Canadian Real Estate Investing.
Cherry Chan, CPA, CA
Your Real Estate Accountant