Toronto Raptors traded DeMar DeRozan to San Antonio Spurs. ☹
DeMar DeRozan, who's the Mr. Toronto, was the best player in the history of Raptors. Unlike any other players, he did not interview other teams when his contract ended with Raptors. He merely met with the Raptors management team, signed and shook his hand.
Now, he's traded to San Antonio Spurs. I could only imagine how betrayed he felt about the entire deal.
DeMar undoubtedly wasn't perfect, but he was such a loyal player. This deal broke his heart and many Toronto Raptors fans' hearts.
Who made the decision? The General Manager Massai Ujiri.
Why? Most of you would know, we got swept the second time in the second round of the playoff, even though we had the best regular season in the history of the franchise.
When your goal is to build a championship team, and you know your current team is good but not great, it is a difficult position for the management team.
Should you stay good? Or do you pursue greatness?
Should you take the risk (breaking so many fans' hearts) or do you stay comfortable where you are?
I have been a fan for years, but haven't been following closely in recent years. But even for someone like me who's a part-time fan, I could see that the current Raptors team would still do well next season, but we would not get a chance for the final.
Can you imagine how frustrated Ujiri is?
Changes are required. It could be as dramatic as the move made by Toronto Maple Leafs a couple of years back, trading mediocre players away and achieving rock bottom in exchange for a couple of young stars. It could be trading DeRozan, our franchise player breaking his heart and many Raptors' fans hearts.
This trade reminds me so much of the following picture: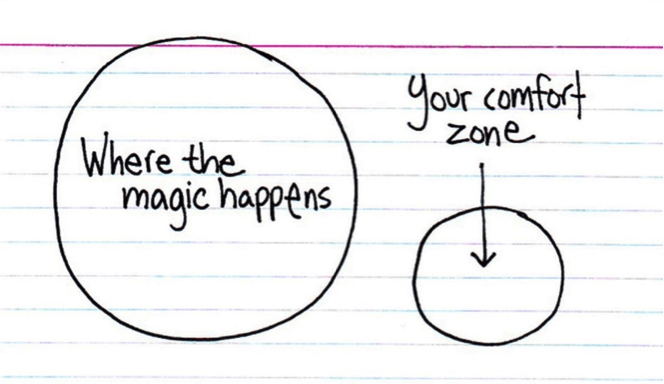 No one can be sure whether miracle will happen for the Toronto Raptors until end of next season, or even longer, maybe five years from now.
Real estate investor and entrepreneur take the same type of risks every single day.
We can choose to stay comfortable, work from 9 to 5. Many of real estate investors, myself included, decide to get out of our comfort zone, start buying properties and let the magic happens.
I started my business out of boredom and frustration at work, I took the risk of having low and sometimes no income for a couple of years. Magic has happened, and I am grateful that I did it.
Charles Wah, a land developer friend, was sharing his development project in Hamilton. He is taking the risk that the city would not allow him to do what he has planned. If he gets what he wants, he makes good money. He's also waiting for magic to happen. 😉
I am going to focus on systems and processes this year, entirely out of my comfort zone, but absolutely necessary for client satisfaction and retention, future growth of my business and family happiness.
Magic is supposed to happen outside of my comfort zone, so I was told. Hopefully, I can report back with some magic next year. 😉
What are your goals? Are you consciously pushing yourself outside of your comfort zone to achieve greatness?
Until next time, happy Canadian Real Estate Investing.
Cherry Chan, CPA, CA
Your Real Estate Accountant