Be grateful. Hussle. Work hard.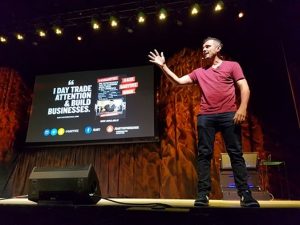 "Beneath every excuse is a fear. Fears are bravery training."
"Small daily improvements over time lead to staggering result."
"#1 reason to make a massive amount of money is philanthropy."
These are a handful of life lessons I learned from attending the Archangel Summit last Wednesday in Toronto.
There were over 1300 people at Sony Centre, most of them were local entrepreneurs trying to learn something new from these successful speakers/entrepreneurs.
A few of my clients asked me recently if I write all the blog posts myself.
Absolutely!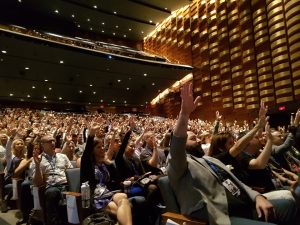 It might not always be easy to find a business book ghostwriter for the accounting/tax information that I provide on my blog.
They're technical.
How would a ghostwriter know about how cute my kids are 🙂 or how difficult it was to deadlift 155lbs. 😉
These blog posts do not only provide information to you. They also help me grow professionally.
No accountants know everything. More often than not, I have to research and learn the topic all over again.
And that's the small amount of improvements I'm putting in myself.
I started off writing three different topics this week. I discarded the other two.
It takes about 5 to 6 hours to write up each blog post every week – from researching an idea to putting them all down into writing.
I am seeing results in my business. I am seeing results in my personal growth.
It's like buying your first rental property. You may only see small amount of appreciation the first year. You may only see a few thousand dollars of mortgage paydown. But results are there.
In five years, the appreciation will accumulate. In five years, the mortgage is paid down by a significant amount.
And that's how we all grow our businesses.
Immediate results are gratifying, but small daily improvements overtime would lead to staggering result. 🙂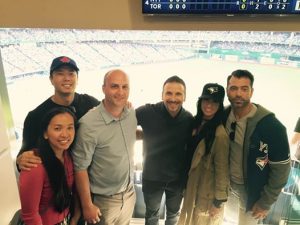 Now on to this week's topic –
What does that mean to have a separate bank account for your business?
It means all the income coming in will go into that bank account.
All the expenses related to the business/properties are coming out from the same bank account.
No personal expenses go through that particular account.
No salaries go into that account as well.
Why?
It makes bookkeeping a lot easierWhether you own your business in your personal name or in a corporation, it just makes your life so much easier if you have a separate bank account – if you've never done this before, you might find this article https://www.ronensimantov.com/opening-a-business-bank-account/ about opening an account to be helpful. You can simply download all the transactions, whether in Excel or Quickbooks format and do your record keeping from there. You can also pass the same information to your bookkeeper. It just makes life so much simpler. At any given point in time, you can see how your business is doing by simply logging into your bank account to see if there is any money left!
Limit the amount of questions being asked by CRAIf you ever get audited, it is likely that CRA would ask for the bank statements.Sometimes they really just want to verify the amount being invested. Sometimes they would like to see how much rent you have received.When you have a mixed use bank account, you may find yourself trying to explain what was deposited in your bank account 3 years ago.It can be a cheque refunded by CRA. It can be a friend paying you back the raptors tickets that you purchased. Who knows?But if it is a separate bank account, all deposits are either investment from you or income coming in. It makes the audit process a lot simpler.One of my clients deposited all his cheques into a joint bank account with his wife. He has a job and several investment properties and his wife is also self-employed.

When we provided the auditor the bank statements, we had to explain to her that the bank account was shared by husband and wife and shared use between business & personal.

The auditor's first response, "why didn't you advise your client to have separate bank account?"
Ease to deduct line of credit interestIf your bank account is strictly used for business, the funds you borrow to put into this account is established to be for investment or business purpose.Interest related to the funds you borrow for investment and business purpose is deductible.On the other hand, if you have a bank account mixed with both personal use and business expense, funds you borrow, even intended for investment purpose, can be perceived as for mixed use.So you would lose the deductibility of the interest expense. Ouch!
Establish separation between legal entitiesCorporation bank accounts fees can be quite expensive.We finished up using the free cheques offered by the bank a while back. We wanted to reorder the cheques, but minimum order would cost about $100 for 60 cheques. For small businesses (especially rental corporation), the cost of owning a corporation bank account can be quite expensive.Unfortunately, it is VERY important to have separate bank accounts between yourself and your corporation.Your corporation and you are two separate legal entities.Every time you take out money from the corporation, there's a tax impact.If you take out more money than you invested or loaned to the corporation, you likely will have to pay some tax.

If all the rent cheques go into your personal accounts, you can potentially owe money to your corporation and trigger some tax implication.
Have an individual bank account between the spousesWhere the money used for investment is important.If it was originally from the lower income spouse, chances are, the corresponding investment income can be reported in the lower income spouse's tax return.For couples who have a large gap between their salaries, having separate bank accounts can help establish that the money used for investment is coming from lower income spouse.And hence the lower income spouse can report the income from the rental properties.And pay lower tax rates.
Final tip: Make sure you print out the bank statements on a monthly basis. As much as we enjoy our paperless life, it is important to keep record of these statements so five years down the road when you need to show to CRA that your husband, who has lower income, paid for the rental property, you can easily retrieve it from your backup!
Until next time, happy Canadian Real Estate Investing.
Cherry Chan, CPA, CA
Your Real Estate Accountant